Do you want your fussy child to eat a variety of foods with little to no complaints?
Food=Fun
Imagine if you could go to your favorite restaurant with your family and your kids were able to order from the menu with little to no substitutions and no meltdowns. What would that mean to you?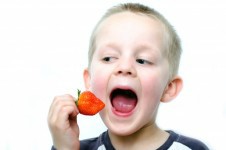 What you will learn:
 Some of the common causes of picky eating
 Simple tips that make it easier at home
How to eliminate stress during mealtimes
What you should do and things you SHOULD NEVER DO if you want success!
Who is it for?
Children who have a limited diet
Kids who show little to no interest in food
Babies who have difficulty transitioning through foods
This is available to those who will most benefit from this information.
(No Strings. No obligations attached.)
Success Story:
Sammy T has a 3 year old little girl who struggled with a eating most foods. So much so that she ended up giving her the same foods every day until eventually, her child began to cut those foods out as well. She was unable to get her to try anything and  felt like all her time with her child was focused on feeding. Once she began to work with Stephanie, she noticed improvements in a matter of a few sessions.
Enter your name and email below to get your FREE TIPS right away!