PICKY EATING
"A Great New Way to Rid Your Home of
PICKY EATING and achieve stress-free mealtimes"
Imagine if you could go to your favorite restaurant with your family and your kids were able to order from the menu with little to no substitutions and no meltdowns. What would that mean to you?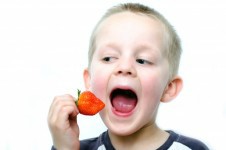 What is considered to be "Picky Eating"?
Picky eating is when a child has a decreased range or variety of foods that are in his/ her diet. They often have difficulty with or refuse trying new foods that are offered to them.
What causes Picky Eating?
Picky eating can be caused by poor experiences with foods. These can be from allergic reactions or reflux, behavioral /environmental factors (i.e. forced feeding, lack of exposure, lack of structured mealtimes), and/or physiological impairments.
Impairments it can cause…
Picky eating can impact family dynamics, difficulty bonding with parents, and may create social impairments for the child.
Physiologically, picky eating can come from…
• Poor oral motor skills
• Oral hypersensitivity
• Gastrointestinal issues
• Allergies
When should I worry?
• If the range of food in the child's diet drops to less than 20 foods
• If the child frequently "falls apart" when presented new foods
• If an entire food group is refused due to looks or textures (i.e. only will eat crunchy foods)
When does it become an emergency?
• If the child decreases in weight dramatically
• If the child is no longer following his growth curve
• If the child refuses ALL foods.
If you experience any of these symptoms, call us immediately.
Traditional treatments that most try but are not as effective include:
• Medication
• Force feeding
• Not feeding them in hopes that they will get hungry
• Allowing the child to graze
If left untreated, PICKY EATING can lead to PROBLEM FEEDING and/or malnutrition.
Parents will make EXTREME accommodations to help the child eat, further creating difficulties with feeding. This continues to impact the parent- child relationship and even though a child may be eating, he/she may be eating very few foods resulting in malnutrition.
Ask Yourself these Questions to See If your Child is a Picky Eater…
1) Can I give my child various foods, in all food groups with ease?
2) Do I have to make significant accommodations for my child during mealtimes?
DISCLAIMER: If you answered Yes to any of the above questions, your child may be a picky eater and you may need to see a feeding therapist to get an official diagnosis.
"How do you get rid of Picky Eating?"
Multiple variables, such as how your child is feeling, where the meal is taking place, and who is present during the mealtime, can impact picky eating. There are strategies to facilitate feeding success. Structured mealtimes, bridging, behavior strategies, and modeling are just a few strategies to add to your bag of tricks.
With practice of these techniques and with consistency, these strategies can really impact feeding and create a new bond between you, your child and food.
Not all treatments are the same.
Not all traditional treatments lead to a better eating. And believe it or not, some may make your child's eating worse! Not all practitioners treat the same.
Our methods are highly unique. We focus on parental understanding and the ability for you to carry out techniques and strategies for you to improve picky feeding.
Years of experience and research has led to the discovery of this new way to eliminate picky eating.
"Who are you?"
My name is Stephanie Coe and I am a pediatric occupational therapist who specializes in helping children who are picky eaters to increase the variety of foods they will eat. This is important because it will allow them to grow and thrive. I am swallow certified and have been treating picky eaters for over 25 years.
My name is Leilanie Dao and I am an occupational therapist who is passionate about helping children with picky eating habits increase the variety of foods they eat. This is important because it allows them to have more foods in their diet and improves familial and social dynamics during mealtimes. I have been working with picky eating and problem feeders for over 13 years and am also swallowing certified.
"What can I expect from this program?"
1. Learn skills needed to limit picky eating
2. Understand importance of trust while eating
3. Tips and tricks on how to introduce foods
4. Ways to enjoy mealtimes with your child
*The complexity of your child's condition will determine the level of results.
"How quickly will I see results?"
1. Most parents feel better immediately with the knowledge of knowing what to do to help their child. You can expect to learn what to do and be able to do it on your own after the very first session
2. Most see changes after a few sessions. The program duration and results depend on the complexity of your child's condition
"How much does it cost?"
1. Because there are so many parents who need access to this vital information, we have created a special program to make it extremely affordable for everyone. You don't need insurance or pay thousands of dollars.
2. The cost ranges from $37 to $107 per session.
3. The complexity of your child's condition will determine how many sessions you'll need. Most everyone sees results for their child the very first session and they love it.
"What if it doesn't work for me?"
There's a 100% money-back guarantee. If it doesn't work, you can get your money back. There's no risk.
Even if you tried other treatments before, this is guaranteed to work or your money-back.
Disclaimer: If insurance is used to pay for treatment, the money-back guarantee does not apply due to strict state and federal insurance laws.
"What's my next step?"
As you can imagine there are a lot of people wanting to start this program. But due to limited availability, only have a few spots available at any given time.
It's only for those serious about getting rid picky eating.
If that is you, click below and pay the refundable $10 deposit and my assistant will call you to schedule your first session. If for any reason you don't start the program you get your $10 refunded.
Remember, this is only for you if you are serious about results.
Click below or call (949)600-5437 now to claim this offer before it expires.
"What's included in the First Session?"
The First Session includes:
1) A private one-to-one exam by a licensed pediatric occupational therapist with a specialty feeding certification.
2) A detailed explanation of the ROOT CAUSE of your child's condition.
3) A list of a few things you can do at home to start making progress right away.
*If time permits, you'll receive a quick treatment as well.
FAQ
"Is it safe?"
Yes. All procedures are FDA cleared and proven safe We are licensed Occupational Therapists with over 20 years of practice in the state of CA.
TESTIMONIAL
"You have the magic touch in getting both of my kids to want to eat green beans and getting them to eat anything I pack. You are truly aMAYZing and so is your clinic."
-Heidi T, parent
Click below or call (949)600-5437 now to claim this offer before it expires.