The aMAYZing Kids speech-language pathology team is trained to help children with communication and swallowing disorders. Through testing, exercises, and one-on-one sessions, they can evaluate and treat children with a range of challenges and impairments.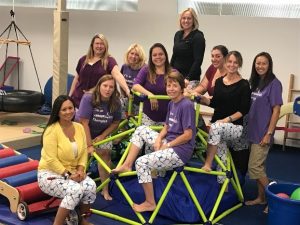 Our Team
The speech-language pathologist will be able to help identify whether these challenges stem from motor difficulties, neurological issues, or impairments in the anatomy of the child's mouth, jaw, or digestive system.
Common reasons for referral to speech therapy:
Improper use of words and their meaning
Inability to express ideas
Inappropriate grammatical patterns
Reduced vocabulary
Inability to follow directions or understand basic concepts
Echoing (repeating what you say)
Difficulty following normal rules of conversation and storytelling, such as maintaining or changing topics, maintaining eye contact, and respecting personal space
Swallowing disorders (beyond the inability to chew or swallow, symptoms may include taking more than 30 minutes to eat, low weight gain, or an aversion to particular food textures)
Voice disorders (child always talks too loudly, cannot modulate the voice, has a limited amount of time that he/she can speak)
Articulation disorders:

Omissions (leaving sounds out of a word, such as "ca" instead of "cat")
Substitutions ("tat" instead of "cat")
Additions ("buh-rick" instead of "brick")
Distortions (a sound routinely changes in a way that does not sound like other sounds in the language; lisps are the most common example
Treatment Techniques and Specialties:
It Takes Two to Talk®
Picture Exchange Communication System® (PECS)
Social skills
VitalStim® Therapy System
SOS (Sequential Oral Sensory) Approach to Feeding
CAS (childhood apraxia of speech auditory processing disorder)
Hanen Programs®
Autism Diagnostic Observation Schedule™ (ADOS)
Kaufman Speech to Language Protocol
Proloquo2Go™
PROMPT® (Prompts for Restructuring Oral Muscular Phonetic Targets)
---
 Speech-Language Therapy FAQs
Will my child grow out of his speech problem?
Unfortunately, there isn't one simple answer to this question. Certain language difficulties may be typical for your child's current age, while other concerns may not be typical. Some speech concerns do resolve as a child grows, but when there is frustration associated with poor communication, therapy may help resolve the concerns and address frustrating behaviors before they interfere with other functions. If your child asks why she is going to therapy, you may want to share that she is going to learn how to say words more clearly.
---
What is "oral motor," or "feeding" therapy?
There can be many reasons why a child may have feeding or oral motor difficulties. For some children, coordinated movements of the muscles around the mouth (tongue, cheeks, lips), is difficult. These difficulties can interfere with sound production and/or safe management of food in the mouth. Depending on the primary area of concern (motor or feeding difficulties), the speech language pathologist or occupational therapist can help.
---
My child has been diagnosed with receptive-expressive language disorder, but my insurance says that speech therapy will not be covered unless the disorder is due to an illness or injury. Is this an illness?
Insurance companies will often deny this condition for therapy unless it is associated with a medical condition that has been identified by your physician as the likely cause for the language delay. Understanding and discussing your child's birth and health history with your physician and therapist is important.
---
What should I tell my child about why we are coming?
Therapy is designed to be fun for the child, and our therapists use a play-based approach for all intervention plans. If your child asks why she is going to therapy, you may want to share that she is coming to help learn how to say words more clearly.