Perfecting Speech Sounds-New Articulation Clinic!
  Is Your Child Difficult to Understand?
Do new people have difficulty understanding your child when they speak because of incorrect speech sounds?  Are you often clarifying what your child is trying to say when people ask, "What did he/she say?"  If so, your child is at risk of poor self-esteem, frustration, negative behaviors and possible reading & writing disorders in school.
What would it be worth to you to send a video message with your child speaking clearly to a family member living far away?  You must read this.
Many of the conventional approaches to teaching and correcting speech sounds suggest waiting until the child gets older.  Unfortunately, the longer the child uses the wrong sounds, the harder they are to correct.   THIS PROBLEM MAY REQUIRE speech therapy and intervention by licensed Speech Therapist.   When you come to the "Perfecting Speech Sounds Clinic", we can help you decide what is the best place to start, fast.Amayzing Kids has added a NEW "Perfecting Speech Sounds Clinic" and it's FREE!  Read below to find out how this clinic can help your child.
Helping your Child requires understanding common speech errors and how to identify them regarding your child.  Learning these pieces of information now will help to avoid needing individual therapy time and additional difficulties with school and friends later.
SOME QUICK TIPS for you to do on your own at home include using a mirror, use of signs, over exaggerating, and showing them how to make sounds correctly.  We will discuss these strategies at the clinic.
ONE REASON WHY we are shedding light onto this problem is because if a child is having trouble combining sounds, not being understood by others, and not wanting to speak, this could result in difficulty with family time, behaviors, poor self-esteem, and limited achievement in school.   Some of the most common causes of this problem are chronic ear infections, developmental delays, or limited practice and exposure.
Here's what one of our patients had to say,
"Thank you for helping my child find his words and hopefully you will help others to find theirs too." – (AL, 31 mother)
If you are serious about wanting to help your child be understood when he/she speaks, sign up now for our free upcoming speech clinic.
This is what you will get at "Perfecting Speech Sounds Clinic":
Overview of common speech errors and how to identify them.
One-on-one time with a licensed speech therapist.
A question and answer period.
The necessary information to determine if an evaluation would be recommended for your child.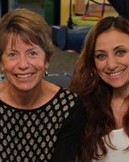 Our free open clinics are run by Erica Buday, SLP, Department lead of speech and Alin Kabounian, SLPA.  Erica has worked with children of all ages with a variety of disorders and needs, including receptive-expressive language, fluency, cleft palate, apraxia, autism, and articulation.  Alin Kabounian, Speech-Language Pathology Assistant (SLPA) also has a great deal of experience with a variety of disorders and she specializes in helping children with articulation and phonological deficits.
Get open clinic date, time and location by clicking below.