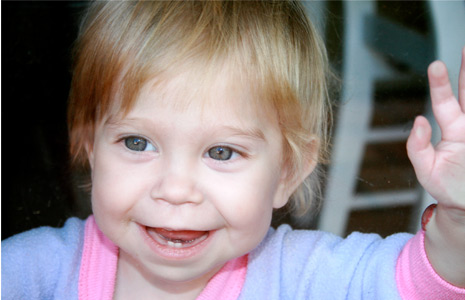 Honoring the memory of Hailey Mayz Vassilaros
July 20, 2006 – August 11, 2009 
Her Life

She was a little girl—a bright, shine-like-the-sun little girl, born to a regular mom and dad. Her name was Hailey Mayz Vassilaros, and she was born with a challenge. In simple terms, she was born too small and things weren't connected right: her esophagus didn't connect to her stomach.
Through her participation in therapy, Hailey grew into a typical little girl. She loved potato chips ("lellow peesh," as she called them). She loved her family. Her mom always said, "Hailey could make a statue smile." Hailey had the habit of saying, "It's a beau'ful day." She meant it, and her very presence made it so.
Only with us until age 3, Hailey's short life included multiple hospital stays. She had procedure after procedure. She had to be provided with supplemental feedings through a tube in her stomach. The doctors said Hailey would face future medical hurdles, but her life prospects were great. As an infant, she had to have therapists help her learn how to hold her head up, how to sit, how to crawl and walk, and how to eat and talk. She loved "playing" at the hard work of therapy. Her caring therapists are now the directors and leaders at aMAYZing Kids.
Life changed radically for her family the day Hailey was born due to the care she needed…and even more so the day she left. Hailey died unexpectedly, yet very peacefully, in her sleep on August 11, 2009.
Her Legacy
Shortly afterwards, her parents started the Hailey Mayz Foundation in her honor, providing financial gifts to other families in need. In 2010, Hailey's therapists and family met and reminisced about Hailey's love of therapy and also discussed the changing face of medical care and early intervention for children. Out of their passion to help others, the team of five worked diligently to launch aMAYZing Kids Pediatric Clinic in 2011. Today, the aMAYZing Kids clinic is a place where Hailey's spirited life continues to inspire the team to skillfully guide other young children every day.