The occupational therapists at aMAYZing Kids are trained specialists who use specific hands-on techniques to help children to carry out the "jobs," or occupations, of a child's daily life.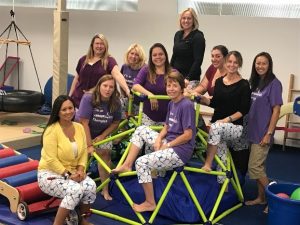 Our  Therapy Team  
Their help is especially valuable when a child is having difficulty learning these skills on their own and falling behind their peers. Examples of these tasks are:
Feeding themselves
Getting dressed
Tolerating changes in their environment
Holding a crayon to draw
Getting on and off playground equipment
All of these are areas where our occupational therapy team can help.
Occupational therapists work to evaluate the existence of an impairment that may cause difficulties. Once identified, the occupational therapists develop a treatment plan to help address the impairment.
Here are a few of the challenges our occupational therapy team helps children address:
Sensory impairment
Motor skill impairment
Perceptual deficits
Vision impairment
Handwriting difficulty
Sensory processing disorder
Perceptual deficits
Delays or difficulty with fine motor or self-care skills
Oral motor concerns
Feeding difficulties and swallowing disorders (also see Speech-Language Pathology)
aMAYZing Kids Occupational Therapy Team Treatment Techniques and Specialty Certifications:
SIPT (Sensory Integration and Praxis Test™)
Advanced certifications in swallowing
Advanced certifications in physical agent modalities
VitalStim® Therapy System
Handwriting Without Tears®
Zones of Regulation®
Astronaut Training
Interactive Metronome®
Wilbarger "Therapressure" protocol
SOS (Sequential Oral Sensory) Approach to Feeding
Therapeutic Listening®
Tube Feeding With Love
Neurodevelopmental treatment (NDT)
Beckman Oral Motor Protocol
---
Occupational Therapy FAQs
What are examples of why my child would see an occupational therapist at aMAYZing Kids?
Our occupational therapists specialize in helping children who are falling behind or having difficulties with independence at home, school, or within their community.
Drinking from a bottle or cup
Tolerating the fabric in clothing
Sitting up to play
Buttoning clothes
Participating in a game with other children
Tolerating the noise of a birthday party
Holding a pencil
Writing legibly
Playing on the playground
Clumsiness
Difficulty playing or socializing effectively
Difficulty with motor skills
---
How does the therapist know what the problem is?
Occupational therapists are educated in anatomy, physiology, neurology, and sensory and motor development. Through observation during play, along with standardized testing tools, the therapist will identify any areas of weakness that could be contributing to delays and difficulties.For example, if a child is struggling with handwriting, there are many components of the task that will need to be assessed, such as sitting posture, trunk strength, shoulder stability, hand strength, visual skills, and perceptual scanning. An occupational therapist will assess each aspect of that task. Or, if a child is struggling with feeding or swallowing disorders, the therapist will focus not just on eating, but on the underlying components of eating tasks.
---
Someone says my child has "sensory issues," but she can hear and see just fine. What does that term mean?
Sensory issues tend to fall into two categories:Over-sensitive ("hyper-responsive"): a child becomes overwhelmed by the sensations of clothing, bright lights, or loud noises, or doesn't want to touch things or get messy.
Under-sensitive ("hypo-responsive"): a child may show no reaction to extreme pain, movement, or temperature, or seek out extreme sensations because they have an under-sensitive, or hyposensitive, sensory system.
Children who are over- or under-sensitive to sensory input may be diagnosed with Sensory Processing Disorder. This disorder can interfere with skills related to self-care, language, motor development, academics, and social/emotional development.
---
Can't my child just practice the tasks he's struggling with? Won't that be enough?
When a child is having difficulty mastering certain motor skills, repetition alone without addressing the underlying cause of what is impeding learning will not be very effective. Good sensory processing is crucial for gaining new skills.