The aMAYZing Kids physical therapists observe and assess how a child's strength, balance, injuries, and coordination impact how they move and use their body. If your child is having trouble holding their head up, or learning how to sit and walk, or is walking with abnormal patterns, they may be referred for physical therapy.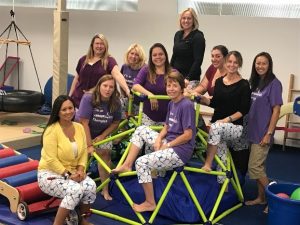 Our Therapy Team
Physical therapists are trained to identify concerns, deficits and abnormal patterns contributing to motor difficulties. Once these concerns are identified, the therapist is able to develop a treatment plan and goals so that the child can grow with the healthiest development possible.
The children and families who participate in physical therapy at aMAYZing Kids can achieve maximum functional independence through play-based exercises, activities, stretching, and home programs.
Some of the challenges commonly addressed by our physical therapy team are:
Neuromuscular delays
Torticollis (asymmetrical head or neck position, head tipped to one side)
Joint instability or laxity
Hypotonia (low muscle tone, low strength)
Hypertonia (too much muscle tone with decreased flexibility)
Infant and child gross motor delay (delayed development in skills such as walking, crawling, running, jumping, etc.)
Gait issues such as foot positioning and "toe walking"
Strength, flexibility, pain, and injury
Treatment Techniques and Specialties:
Neurodevelopmental treatment (NDT)
Yoga
Kinesio Taping® Method and McConnell Taping Technique
Orthotics
Sensory integration
Posture, TheraSuit Method®
Proprioceptive Neuromuscular Facilitation (PNF)
Soft tissue/joint mobilization
Infant massage/torticollis treatment
Helmet referrals
Exercise programs
Orthopedics
Adaptive equipment
---
Physical Therapy FAQs
As a child, I walked late, and I'm fine now. Won't my child just catch up?
There are many factors affecting the age at which a child first walks. A physical therapy evaluation can help determine the cause of this delay. If a child is 15 months or older (chronological age, not adjusted age) and not yet taking steps on their own, we recommend an evaluation. The resources that physical therapists and doctors have available to them today may not have been as widely available when you were a child. Helping your child succeed without invasive procedures, and before much time goes by, is always a good choice.
---
The doctor said my infant's neck and head need physical therapy. How did this happen?
Babies with torticollis, or plagiocephaly, are commonly referred to aMAYZing Kids. Physical therapy can help your baby learn to hold up their head on their own and can help the shape of their head and soft tissue of the face develop symmetrically. This condition is often due to positioning in the womb, time spent in carrier devices, or from musculature on one side of the body being stronger than the other. Therapy will help address developmental skills that can be difficult when the head is not held in midline or when one side of the body is tighter than the other side.
---
 My child walks on their toes or with their toes pointed in, but everyone says they will grow out of it. Can physical therapy help?
It is best to address persistent "toe walking" earlier rather than later. Toe walking can lead to heel cord contractures, foot and heel pain, and awkward walking as a young adult. Part of the physical therapy evaluation will be to determine why a child is walking on their toes, and this in turn will help you to know if and what type of intervention is needed. Physical therapists will use stretching, strengthening, sensory intervention, taping, orthotics, and exercises to help.
---
 What is "W-sitting" and is it okay?
"W-sitting" is a position of sitting on the floor with the knees turned in and feet behind and pointed out. This can overstretch some ligaments and muscles while shortening others, often contributing to toe-in walking, postural muscle weakness, and decreased development of cross-body coordination, so it is typically discouraged. Therapists will help teach your child better ways to sit and to improve body awareness and strength.
---
My 9-year-old son is in baseball and very active. He injured his shoulder, and the doctor said he needs physical therapy. Can we go to aMAYZing Kids?
The physical therapists at aMAYZing Kids are licensed and trained to treat under the full scope of practice of a Physical Therapist of California and therefore could evaluate this type of injury if you would like us to do so. We are, however, specialists in addressing global gross motor deficits and have treatment tools available at our clinic that are aligned to do that. If your child has an injury that requires different specialized equipment or modalities, we will be happy to recommend treatment sessions at a different facility.